Flagpole Company Near Me - Follow This Simple Strategy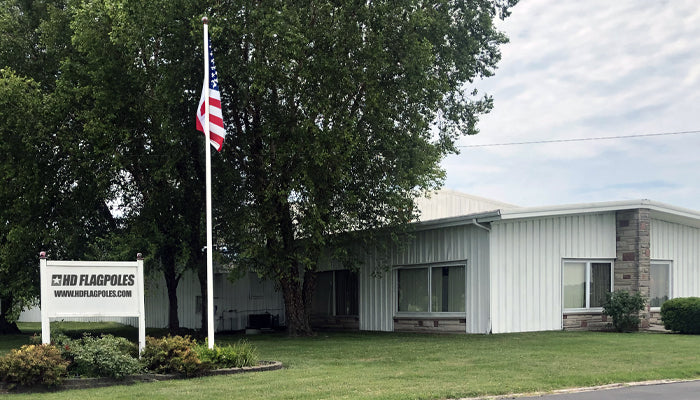 It's not as simple as Googling "Flagpole Company Near Me" or maybe even "Commercial Flag Pole Installation Near Be" but it's also not that hard. If you're looking to buy a new flagpole for your home or business and you're not sure where to start or which company to use? 
Don't worry, I'm here to walk you through the process step-by-step to finding a flagpole installation company. Finding a reputable flagpole company in your local area is easier than you think with just a few searches on Google. 
First things first - before you start Googling, think about exactly what kind of flagpole you need. Are you looking for a tall commercial flagpole to fly a large flag at your business? Or a short residential pole for your front yard? Do you need the pole installed too or will you be handling that yourself? What material do you prefer - aluminum, steel, fiberglass or wood? What type of flag halyard system? Your specific needs will help filter search results later.

Once you've determined the type of flagpole you require, it's time to grab your laptop or phone and pull up your favorite search engine (we'll use Google here). The key is searching for flagpole companies within the city or general region you live in. For example, search "flagpole company near Dallas" or "Tampa flagpole installation". This will pull businesses located closest to you at the top.

I recommend adding your city name and other keywords like "commercial", "residential", "install", etc to the search to filter even further. You can get extra specific too - try something like "commercial aluminum flagpoles San Diego" or "fiberglass flagpole installation Miami". The more details in the search, the more tailored results you'll receive.

Now browse through those local search results and start researching companies. Visit their websites to get a feel for their business, products and services. Here are a few things to look out for:

Services - Do they only sell flagpoles or provide installation too? This is especially important if you need the full service.

Products - Browse their flagpole options - material types, heights, styles. Do they have what you need?

Photos - Look through images of past flagpole projects to gauge their work quality.

Reviews - Check for online customer reviews on Google, Facebook or elsewhere. This can give insight into reputation, quality and service.

Location - Is the company located conveniently close by? Shorter distances are ideal for service calls or emergencies.

Experience - How long have they been in the flagpole business? Look for many years of expertise.

Staff - Meet the team through "About Us" pages to learn their backgrounds and skills.

Pricing - Check their website or request quotes to compare costs. Be sure to account for the full project cost - parts, installation, shipping, etc.

Once you've thoroughly researched a few companies, narrow down your choices to a top contender or two. If needed, call and speak with a sales representative to ask additional questions or clarify details. Many quality companies will offer free estimates as well.

Here are a few signs you've found the right flagpole provider:
They are professional, courteous staff that answer questions promptly
They have strong knowledge about products, installation, specs and more 
They have a stellar reputation based on reviews
Their services that match your specific flagpole needs and preferences
They have reasonable pricing that aligns with competitors 
They offer quick availability to complete the project in your timeframe
They have some kind of strong warranty and/or guarantee policy 
They have years of experience successfully serving your local area

By following this process using targeted Google searching, you can feel confident finding the perfect local flagpole company to fulfill your needs. Just run searches using your city and precise flagpole requirements, thoroughly vet companies through their websites and reviews, choose a top contender that ticks all the boxes, and request a quote. With the right provider secured, you'll soon have a fantastic new flagpole flying proudly at your location.

Here is a recap of the key steps to finding a flagpole company near you:
Determine your specific flagpole needs - height, material, style, etc. 
Search Google for "flagpole company YOUR CITY" or related keywords
Research top local companies by visiting their websites
Review products/services, photos, reviews, experience and staff 
Compare pricing and narrow down to 1-2 top choices
Call to ask questions and request free estimates
Verify they have strong reputation, expertise and match your needs
Select the best flagpole provider and get a fair written quote 
Schedule the project & installation 
Enjoy your beautiful new flagpole!

Finding and choosing the right local flagpole company doesn't have to be difficult thanks to Google search. In just a few steps, you can connect with reputable pros that will install the perfect flagpole to display your flag in style. Let me know if this overview helps explain the process of researching providers in your area!