Heavy-duty Flagpoles for Houses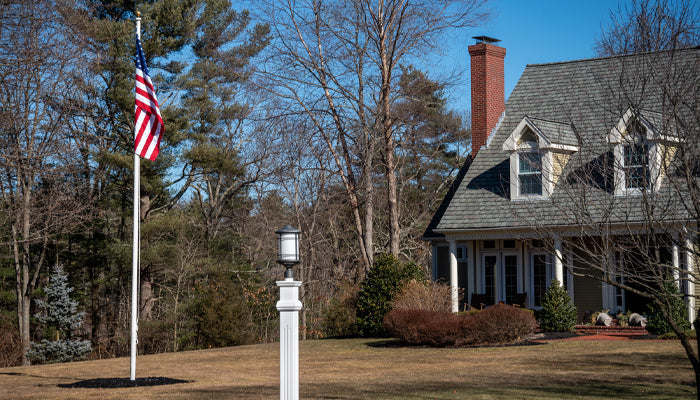 flagpole for your front yard
can be a challenge as ordinary flagpoles may be unable to withstand harsh weather conditions. They may get damaged and require replacement, or need frequent maintenance to look good and continue to perform their function.
If you're looking to proudly display a flag outside your home that can weather different environments, heavy-duty flagpoles are what you need. Let's explore some of your options!
Heavy-duty Flagpoles for Your Home
Here are some styles of heavy-duty flagpoles that you can choose from:
Heavy-duty Telescoping Flagpole
This Residential Heavy Duty Telescoping Flagpole is designed with military-grade, aircraft aluminum to make it lightweight and durable. The sturdy 3-inch PVC base is stable enough to withstand winds of up to 85 mph. It also has theft prevention features to ensure that you don't lose your cherished flag or flagpole. The flagpole topper adds a stylish element that makes the flagpole look complete while elevating its aesthetic appeal.
That's not all. To ensure that the flagpole remains aesthetically appealing and to extend its service life, it is also weather resistant and anodized for coastal homes. Plus, the three-tier locking system allows you to achieve the exact height you want.
Overall, a heavy-duty telescoping flagpole ensures that you get sturdiness, durability, and style in one product!
Hurricane-resistant Tapered Aluminum Flagpole
The Hurricane Series 30-foot Tapered Aluminum Flagpole is the flagpole for you if you live in an area that may experience hurricanes. The military-grade spun aluminum flagpole has thick walls that are extremely durable and can withstand high-speed winds and extreme weather conditions without sustaining damage. It also features an external halyard and rotating aluminum truck system which prevents tangling even when your flag is out in windy weather.
You can choose from three anodized finishes: clear, bronze, and black so your flagpole matches your personal style.
Overall, this is a great heavy-duty option if you need a flagpole that won't bend or break in harsh climates.
How To Choose the Right Heavy-duty Flagpole for Your Home
Here are some tips to help you choose the right flagpole for your home:
Choose the right material as this will determine its durability and maintenance. You can pick from fiberglass, steel, or aluminum to ensure that your flagpole is lightweight, durable, and resistant to rust and damage.
Consider the height of your flagpole since this will affect its visibility. You should also select the right height based on the size of your flag to ensure that they are proportionate to each other.
Select a flagpole with a high wind rating so it can withstand adverse weather conditions and remain stable even in stormy weather.
Ensure that the installation process is easy and convenient by having the right tools and supplies as well as some background on how to install a flagpole. A flagpole kit can give you a head start in this matter.
Final Thoughts: Hoist Your Flag Up High
Hoisting a flag on your property is a major source of pride. So, finding a heavy-duty flagpole that is durable enough to withstand different weather is very important. It's also crucial that your flagpole doesn't require too much maintenance or upkeep, so you don't have to worry about it too much and you can enjoy your flag without any hassle.
For more information on high-quality residential and commercial flagpoles, contact us at HD Flagpoles or get a free quote today!