How to Find the Perfect Large American Flag Maker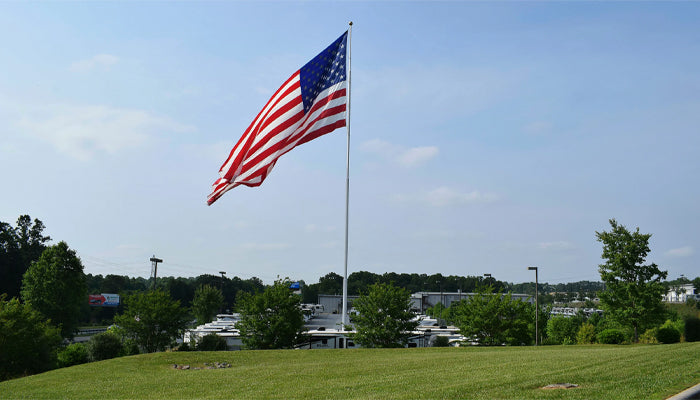 The
American flag
is a powerful symbol that evokes a sense of pride and patriotism in all who see it waving. With its iconic red, white and blue design and 50 stars representing each state, the American flag represents the spirit of our nation. As the flag ripples gracefully in the breeze, it brings to mind values like freedom, opportunity and unity.
For many Americans, displaying the flag properly is a way to honor our country and show respect for what the flag stands for. Whether you want to fly the flag at your home, business or even wave it at a parade or event, finding a high-quality American flag that will withstand the elements is key. Here's what to look for when searching for the perfect American flag maker.
Quality Materials
A premium American flag is made from durable, weather-resistant materials designed to last. The flag should be made from a tightly woven nylon or polyester fabric. These synthetic fabrics are fade-resistant and dry quickly if wet. Avoid flags made from cheaper cotton blends, which can fray and deteriorate faster in the wind and rain. The edges of the flag should be reinforced for extra strength. High-quality flags may even be outfitted with vent holes to allow air to pass through and prevent tearing in high winds.
For the stripes on the flag, look for dyed fabrics rather than cheaper printed or screen printed designs. Dyed fabric stripes hold up better over time. The dye should also be colorfast and UV-resistant to prevent fading.
Metal Grommets
Along the top edge of the flag, sturdy metal grommets are essential for hanging the flag from a rope or flagpole. The grommets should be made from rust-resistant metals like stainless steel or copper. They should be securely reinforced where they meet the fabric to avoid ripping. More grommets lead to a more durable flag that won't put too much strain on any single attachment point to the pole or hanging rope.
Made in America
For many Americans, a flag made completely in the USA is the ultimate symbol of American pride. Seek out American flag makers who manufacture their flags domestically in American factories and source the materials from U.S. textile mills. This supports local businesses and jobs. The product packaging or tag should clearly state it's made in the USA.
Standards Compliance
To ensure the highest quality, look for flags that meet U.S. manufacturing standards. The Federal Flag Code sets requirements for the colors, materials, size ratios and other specifications for American flags. Flags labeled with "Made in USA Certified" have been audited by approved third parties to guarantee they meet federal regulations for American flags.
Workmanship
While a flag whipping in the wind appears simple, quality craftsmanship goes into constructing it. Inspect the flag for details like tightly sewn seams, correct alignment of the stars and stripes, and clean, precise stitching with no stray threads. Well-made flags have a nice heft and drape to them, while cheaply made flags can feel flimsy or lightweight.
Where to Buy Quality American Flags
Shopping around from different flag providers can help you compare materials, manufacturing standards, prices and ordering options to find the right flag maker for your needs. Here are some top places to buy authentic and durable American flags:
- Flag Stores - Visit a brick-and-mortar flag store where you can see and feel the quality firsthand. Specialty flag shops have the largest variety and biggest inventory.
- Online Flag Retailers - Internet companies like
hdflagpoles.com
offer one-stop shopping for flags in all shapes and sizes. Look for detailed product descriptions and specs.
- American Flag Makers - Buying directly from flag makers like Annin Flagmakers and Valley Forge Flag eliminates the middleman markup for added savings. Flag makers also offer custom options.
- Big Box Retailers - Major chains like Walmart and Home Depot sell official U.S. flags, but usually have a smaller selection focused on the most common sizes.
- Government Organizations - Groups like the American Legion and the Veterans of Foreign Wars sell American flags directly to the public as a fundraiser.
No matter where you purchase your American flag, be sure to follow proper flag etiquette for displaying, handling and disposing of worn flags respectfully. With the right high-quality flag and proper flag etiquette, you can proudly display this emblem of American ideals. Fly the flag high and honor the spirit of our great nation.