Finding A Telescoping Flagpole on Amazon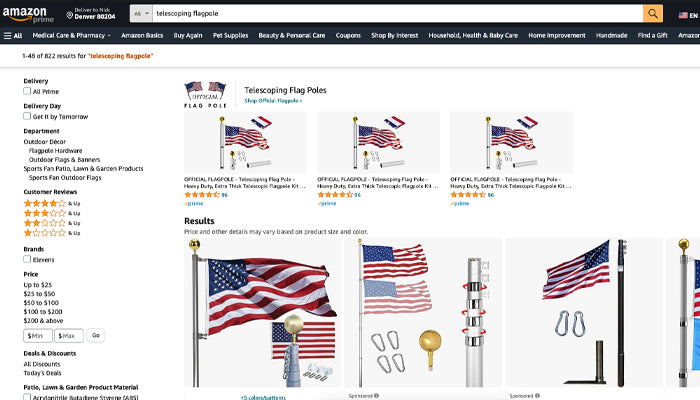 Hey there fellow flag-flying patriot! If you're like me, you know there's nothing better than seeing Old Glory fluttering proudly in the breeze. Am I right? But finding the best telescoping flagpole to display her can be a challenge with so many options to choose from on Amazon.

No worries, I'm here to help walk you through the process in plain English. Whether you're a first-time flagpole shopper or a seasoned betsy ross, these tips will guide you to the perfect pole to fly your colors high. Shall we get started?
Why Amazon for Buying Flagpoles
I don't know about you, but I buy just about everything on Amazon these days. When it comes to flagpoles, here's why Bezos and crew have the rest beat:
- Killer selection. We're talking dozens of flagpole brands, lengths, materials - you name it. More choices than a Starbucks menu.
- Real talk in the reviews. Amazon customers tell it like it is. If a pole is flimsy or a pain to setup, the reviews won't lie. Scope them out.
- Quick shipment. Prime speed, baby! That shiny new flagpole can be on your doorstep in two days tops. No waiting weeks for specialty shipping.
- Easy returns. If you do get a dud (hey, it happens), just box it up and send it back. No problemo.
- Sweet price match. Amazon will match prices from other retailers. So you know you're getting the lowest price guaranteed.
Let's Break Down How to Choose the Right Flagpole:
Picking the ideal flagpole is kinda like going on a blind date. You want to find "the one" that perfectly fits your needs, space, and style. Here's the full scoop on what to look for:
Step 1: Figure Out the Right Height
Flagpole heights range from dinky 12-footers to massive 50-foot monsters. Consider where this thing is going:
- For a standard house, 15-35 feet tall is great. Double check your HOA rules if you have one. Some neighborhoods prohibit poles. Party poopers!
- Business? You'll want 25-35 feet for maximum visibility. Make America see again!
- Portable setups? Compact 12-15 feet works to take Old Glory on the go.
Oh yeah, make sure to measure your space first. Leave 5-10 feet clearance all the way around that sucker. Safety first!
Step 2: Match It With a Fly Flag
The pole size determines the biggest flag you can fly:
- Up to 20 feet tall = 3 x 5 foot flag
- 20 - 25 feet = Go for a 4 x 6 footer
- Over 25 feet = Time to go big with a 5 x 8 flag or larger!
Rule of thumb: the flag should be 1/4 the height of the pole. Math was never my strong suit but I think that checks out.
Step 3: Pick Your Pole Material
Shoppers, you've got two flagpole flavors to choose from: aluminum and fiberglass. 
- Aluminum - The OG. Affordable but sturdy. May show some wear over time.
- Fiberglass - More money but virtually indestructible and holds up to hurricane-force winds!
Both get the job done. Aluminum is fine for most yards. Go fiberglass if you need something super resilient.
Step 4: Look for Convenient Flagpole Features
Beyond the standard pole, here are some bonus features to look out for:
- Ropeless halyard - Makes raising and lowering the flag a cinch without ropes.
- Ground sleeve - Flush mount for a classy permanent install.
- Heavy-duty winch - Smoothly raises that sucker up. Metal gears are clutch.
- Flash collar - Covers any ugly seams where pole sections connect.
- Anti-wrap arm - Prevents your flag from wrapping around the pole. 
- Carrying case - Killer for transporting a portable setup.
Step 5: Compare Prices Like a Pro
Time to break out your inner coupon clipper. Some price shopping tips:
- Note MSRP then find deals below that. Cha-ching!
- Scope any free shipping offers. I heart Prime.
- Compare warranties. Look for at least a year of coverage.
- Bust out any promo codes or coupons you find. Flash sales happen.
- Factor in the flag cost too. Shop everything in one cart.
Let Me Recommend One Hot Deal:
After looking at tons of listings, I have to give my top recommendation to the Telepole Elite 20-footer. Here's why it's a stellar deal:
- MSRP $159, but snagged it for $89 shipped!
- Aircraft-grade aluminum stands up to wind.
- 5 year warranty for peace of mind.
- Code "STARS" gets this baby under $80! Insane value.
Wrapping It Up:
Well I don't know about you, but I'm ready to go find my dream flagpole on Amazon ASAP! Hopefully these tips will help you score an awesome telescoping model that's the perfect match for your needs and budget. Fly that beautiful flag with pride, my friend.  And hey, let us know if you have any other flagpole questions! Happy shopping.