The Best Telescoping Flagpole Made In the Usa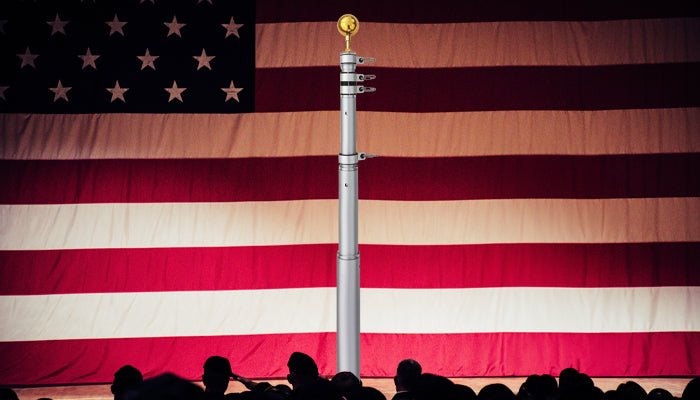 O say, can you see that beautiful star-spangled banner waving proudly over your home? As a patriotic Americans, we love flying Old Glory but sometimes we don't have the space or budget for a massive permanent flagpole. 

That's why quality telescoping flagpoles are such a fantastic solution for displaying the red, white and blue or any other flag you choose. After extensive research, and experience selling literally thousands of telescoping flagpoles, we're 100% convinced the best telescoping flagpole made right here in the USA is the Uncommon Telescoping Flagpole.

This innovative flagpole uses top-notch materials, sturdy construction and clever engineering to make it the absolute finest choice for American flag enthusiasts like us. Here are all the reasons why Uncommon's telescoping flagpole stands tall above the competition:
Built Strong and Sturdy From Premium American Aluminum
Let's start with the vital foundation of this well-designed pole. Uncommon uses only 6000 series marine-grade tempered aluminum from domestic mills to create their HD telescoping flagpole series. This high-end aircraft-quality alloy is extremely lightweight yet far stronger than lesser aluminum alloys. It also delivers superior corrosion resistance compared to foreign-made telescoping poles.
The 2-piece interlocking sections provide greater stability and reduced wobble compared to models with 3+ loose-fitting extendable sections. Uncommon also engineered it with a generous 3-inch diameter pole capable of withstanding winds up to 35mph when fully extended up to 25 feet. Don't let the lightweight design fool you – this baby is built for superior durability and resilience!
Fast, Secure Height Adjustments Up to 25 Feet
Despite its towering maximum height, the HD telescoping flagpole telescoping pole conveniently collapses down to just 5 feet for storage when not gracing the skies with Old Glory. Extending it again takes only minutes and requires no tools or hassle. Just twist the locking mechanism to securely fix it at multiple heights up to 25 feet tall.

The integrated rope halyard and pulley system lets you quickly and easily raise and lower the flag. Rubber stoppers on the end pole prevent any bothersome clanging noises. This well-engineered system makes displaying your 3x5', 4x6' or 5x8' star-spangled banner a total breeze!
Designed for Quick Setup Anywhere
Uncommon's HD telescoping flagpole flagpole conveniently includes a ground sleeve anchor for securing it firmly in place when extended. Just insert the anchor where you want your patriotic display, lock the pole in place, raise the flag up the integrated rope pulley, and enjoy!
The easy, no-tools required setup means you can move it around your yard or extend it tall and proud at a moment's notice. When it's time for storage or transport, the entire pole packs down to a lightweight, compact 5-foot length. The included carrying case makes storage and portability a cinch. Hoist it high at home, camping, events, parades, and anywhere else your American spirit moves you!
Proudly Crafted in the USA!
In an industry saturated with low-quality imports, it's refreshing to find an elite telescoping flagpole handcrafted with care right here in the United States of America. Uncommon is a family-owned company that creates their HD telescoping flagpole series 100% in the Midwest using domestic aluminum and components.
The all-American design and construction let you support local jobs and economic growth while displaying your own stars and stripes, sports team logos, business banner, or jumbo novelty flags. Just buy American when it comes to a symbol as important as the Star-Spangled Banner!
Earns Stellar Reviews and Loyal Fans
Looking across customer reviews, Uncommon's HD telescoping flagpole telescoping flagpole earns an impressive 4.8 out of 5 stars. Owners rave about its premium quality, easy setup, durability in high winds, and how it's the best telescoping flagpole they've ever purchased. Many loyal fans say they're extremely satisfied after years of regular use.

With a superior-grade American flag flapping beautifully on this pole through sun, wind, rain and snow, you'll quickly become a raving fan too! It may cost a bit more than cheap import models but delivers unmatched quality and longevity.
Covered by Uncommon's Unconditional Lifetime Warranty
To back their top-notch HD telescoping flagpole series flagpole, Uncommon offers an unconditional lifetime warranty. This covers any defects in materials and workmanship for as long as you own it. You can buy with total confidence knowing your investment is covered.
Between the incredibly durable materials and construction, stunning reviews, and exceptional warranty, it's easy to see why Uncommon's HD telescoping flagpole reigns supreme. This well-engineered telescoping flagpole is built to last a lifetime and makes displaying Old Glory a breeze.
Our Verdict: This is hands-down the finest American-made telescoping flagpole money can buy. I rank the Uncommon HD telescoping flagpole as an over-the-top sensational pole perfect for patriots like us who want Old Glory on proud display. Let your freedom fly high and beautiful in the skies with this amazing flagpole!