The Uncommon Telescoping Flagpole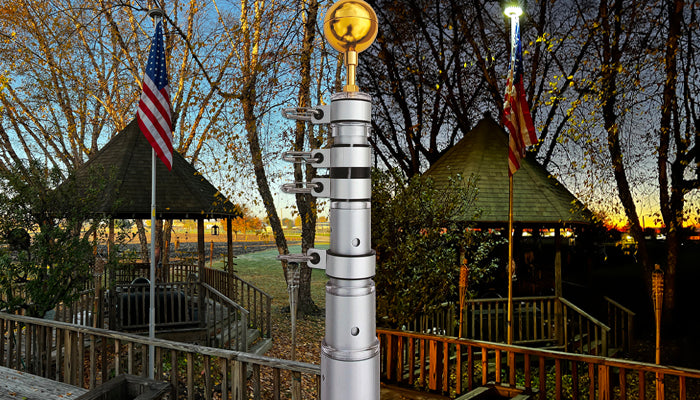 Imagine. You walk outside, coffee in hand, the sky is exploding with blazed oranges, pinks and reds as the sun peeks over the horizon. With a patriotic duty, you extend your telescoping flagpole upward, Old Glory catches the first light of day and waves proudly in the gentle morning breeze. 
(Enter the best residential flagpoles on the market, Uncommon's telescoping flagpole.)
For many, this daily ritual is performed using a traditional flagpole, often made of metal or plastic and fixed in place.  But for those seeking a more versatile and unique option, Uncommon's telescoping flagpoles offer a tantalizing alternative.
But it's not just travelers who can benefit from the telescoping design of Uncommon's flagpoles. Homeowners, too, can enjoy the convenience of being able to adjust the height of their flagpole as needed, whether it be to accommodate a larger flag for special occasions, or to lower it during severe weather.
But the benefits of Uncommon's telescoping flagpoles extend far beyond their portability. Made of durable and weather-resistant materials, these flagpoles are built to last, standing strong against even the most inclement conditions.
And with a range of sizes available, there is a telescoping flagpole to suit every need, from small garden flags to large banners.
But what truly sets Uncommon's flagpoles apart is their aesthetic appeal. Featuring sleek and elegant designs, these flagpoles are a far cry from the clunky and utilitarian look of traditional options.
Instead, they add a touch of sophistication and style to any setting, whether it be a backyard barbecue or a grand public event.
And because they can be easily extended and retracted, Uncommon's flagpoles allow for greater versatility in terms of display options. Whether you want to fly your flag at full mast or at half-staff, these flagpoles can accommodate, giving you the freedom to honor the occasion as you see fit.
And for those seeking to make a statement with their flag-flying, Uncommon's flagpoles offer the added bonus of customizable options.
From unique finishes and materials, to personalized engravings, these flagpoles can be tailored to individual taste and preferences. This allows for a level of individuality and expression that is simply not possible with traditional flagpoles.
So if you're looking for a flagpole that is both functional and fashionable, Uncommon's telescoping flagpoles may be just the thing for you. Raise your flag with pride, knowing that your choice of flagpole is not only practical, but also a reflection of your personal style and flair.
Whether you're a dedicated patriot, a frequent traveler, or simply someone who appreciates the finer things in life, Uncommon's telescoping flagpoles offer a unique and compelling option.