Choosing the Best RV Flagpole Mount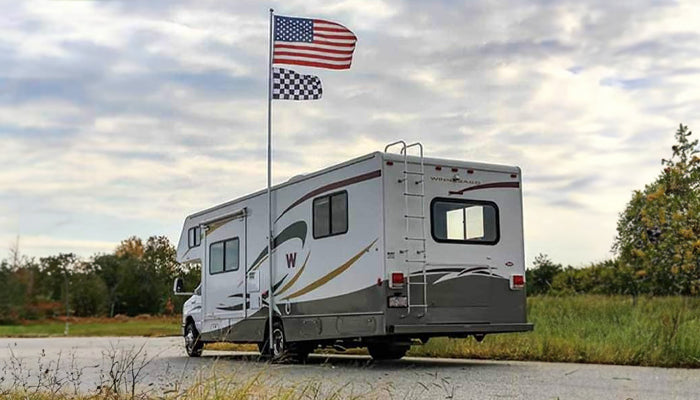 RV flag pole mounts allow you to easily display your favorite flag as you zig-zag your way across the country. They're great for campsites, tailgating and more but you need to make sure you get the right one for your needs.
Essentially there are two main options for attaching a flagpole to your RV and we're covering both in detail below.  Let's dive into the nitty gritty on each type so you can decide which works best for your travel style and flag flying needs.
Hitch Mounts – Attach Directly to Your Receiver
The hitch mount option utilizes your RV's existing hitch receiver to securely attach a flagpole mount. This results in a fixed, permanent flagpole installation on the rear of your RV.

Here's an overview of how hitch receiver flagpole mounts work:

- Mounts directly into your standard 2" trailer hitch receiver

- Provides a permanent flagpole every time you hit the road

- Made of steel or aluminum for durability

- Available in various heights from 8-13 feet

- Requires drilling holes into the hitch receiver

- Allows you to safely drive with the flagpole installed

Now let's get into the pros and cons of using a hitch receiver mount:

Pros of a RV hitch mount:

- Permanently installed for constant display as you drive

- Provides maximum flag visibility with tall fixed heights

- Very sturdy mount that won't twist or shake at highway speeds

- Creates an impressive, attention-grabbing statement piece

- Lasts for years thanks to durable metal construction

Cons of an RV hitch mount:

- Sometimes requires drilling permanent holes into your hitch receiver

- Can't tow trailers or mount bikes while flag is installed

- Adds a lot of height to your RV's overall profile

- More expensive than temporary tire mount options

If you want your stars and stripes on proud display every time you take off on an adventure, a hitch receiver mount is the way to go. Brands like the REC Receiver Flag Pole Kit are made of quality materials and easy to install. Just be mindful of the added height when approaching overpasses!
Tire Mounts – Quick and Temporary Flagpole Setup
For RV-ers who only want to display their flag while parked at campsites, tire mounts provide a great portable option. Here's how they work:
- Mount under your RV's tire for stability
- Temporary setup – secures when parked and easily removed for driving 
- Often uses telescoping poles from 5-20 feet tall
- Typically made from lightweight aluminum or other alloys 
- Requires positioning each time you park
Now let's see those tire mount pros and cons:
RV Tire Mount Pros:
- Provides temporary, portable flagpole display
- Quick and easy to set up or take down within minutes
- Made for an adjustable telescoping pole that allows you to vary height
- Cheaper than more permanent hitch mounts
- No mods to your RV required since it's temporary
- Take it along and use it anywhere
RV Tire Mount Cons:
- Not a permanent mounting option
- Must install and remove at every new location
- Limited wind resistance since the pole isn't bolted
If you're looking for quick, temporary flag display, a tire mount paired with a telescoping pole is the perfect choice. Brands like the Sportsman's Guide Flagpole Tire Mount provide a sturdy temporary base to install in minutes and remove just as easily.
Which Flagpole Mount is Best for Your RV Lifestyle?
When deciding between a fixed hitch mount or temporary tire mount, consider factors like:
- Do you want permanent or temporary display?
- What pole height do you need for your flags?
- Is hitch space a concern?
- How much adjustability is needed for campsites?
- What's your budget for accessories?
For RVers who love decorating their entire camp with flags and banners, the adjustable tire mounts are the way to roll. If you want just a single flag flying on full display as you cruise America's highways, go for a hitch receiver mount.
Either way, adding a flagpole mount is an easy way to show your patriotic pride, team spirit, or personality on the road. And who can resist the feeling of rolling into a campground with your colors flying high and proud?  Safe travels and happy flag flying! Let those colors wave for all to see.