The Best One-Piece Flagpoles Made In USA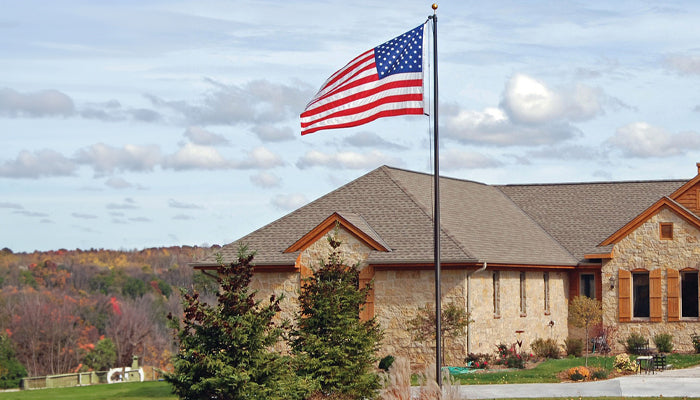 Hey there! If you're looking to buy an American made one piece flagpole, you've come to the right place. We've done quite a bit of research on flagpoles and I'm excited to share what We've learned about the top options for high quality, durable, and long lasting one piece flagpoles manufactured right here in the United States. 
When it comes to
one piece flagpoles
, you want something that is sturdy, rust resistant, and built to last. The great thing about American made options is that they are crafted with care and precision by skilled workers using high grade stainless steel and aluminum alloys as base materials. This results in flagpoles that can withstand strong winds, rain, snow and years of wear and tear.
One of my top recommendations is the standard, 20 foot satin finished aluminum one-piece flagpole. This beauty is made from thick walled seamless aluminum tubing that is satin finished to protect against oxidation and corrosion. It comes with a gold anodized aluminum ball finial and revolving truck with stainless steel ball bearings for smooth and quiet flag raising and lowering. The powder coated steel foundation sleeve allows you to securely install it either in the ground or on a deck or patio. At 1 inch in diameter, this flagpole will proudly display 3x5 foot flags.
Now, if you need something a bit taller but still high quality, check out the
25 foot tapered aluminum flagpole
. It features a dark bronze anodized finish and 0.156 inch thick walls for superior wind resistance. The cast aluminum revolving truck has sealed stainless steel bearings for years of reliable operation. This flagpole comes complete with a ground sleeve, two halyard accessories, and a gold anodized ball finial with spur. For easy height reference, it even has a stainless steel yardarm cleat. Designed and manufactured in the USA, this sturdy flagpole will hold up a 5x8 foot flag proudly for decades to come.
If budget is a concern, the 20 foot one piece flagpole that comes at a lower price point without sacrificing durability. It features a clear anodized finish and comes complete with a gold anodized ball, cast aluminum revolving truck, halyard, ground sleeve, and installation instructions. The tapered aluminum tubing has medium wall thickness that provides strength while keeping it lightweight. While not the thickest flagpole, it will stand up well against wind and weather. Pair it with high quality stainless steel rope and cleat hardware to get a reliable setup at a reasonable price.
When it comes to rope and hardware, I highly recommend going with vortex-style halyward. Vortex ropes won't stretch, rot or mildew and has superior strength. Combine it with quality stainless steel hardware and cleats to prevent any weak links in your setup. Be sure to get swivel snaps to connect the rope ends to the flag grommets, allowing the flag to stay oriented properly in the wind.
For cleats, look for cast aluminum or stainless steel options with rounded horns to prevent fraying of the rope. Mount it securely on a wall or sturdy post near the flagpole at a height that allows easy raising and lowering of the flag. Check the flag etiquette guidelines for proper illuminated night display if desired.
Now let's talk about flagpole bases. For residential in-ground mounting, concrete bases are the most common and economical choice. They provide a stable foundation and you can integrate anchor bolts when pouring for securing the flagpole. Use at least a 30 inch diameter base and extend at least 3 feet below ground level.
For more decorative above ground mounting, take a look at the line of accent bases that are available to consumers today. They have several chamfered base options made from fiberglass with a bronze powder coated finish that integrates the flagpole for a clean, sleek look. Make sure to seal any holes in the base with silicone to prevent moisture damage.
If you'll be displaying your flag on a balcony or rooftop, consider a portable collapsible or freestanding base option. These provide stability and ballast without needing permanent mounting. Look for solid quality construction - aluminum or powder coated steel bars and plates weighted with sandbags or cast iron are good choices. Apply weatherproof tape on any sharp edges.
I know this covers a lot of ground, but I hope it provides a good overview of some of the best American made one piece aluminum flagpoles out there. Let me know if you need any guidance on selecting the right height, flag size, or accessories. I'm happy to share any other insight I have to help you choose the perfect flagpole to proudly display our flag.
Just remember - when you buy American made, you support skilled workers and manufacturers right here at home. Not only does this strengthen our economy, but it results in quality products built by people who take pride in their work. That American craftsmanship and attention to detail is worth investing in.
So don't settle for a cheap import that will deteriorate and fray after a couple seasons of high winds and exposure to the elements. Do it right from the start with an American made flagpole that will stay standing tall and proud for decades to come.
I hope these recommendations give you some great options to look into that fit your site and budget. Happy flag flying! Let freedom wave!