Titan Telescoping Flagpole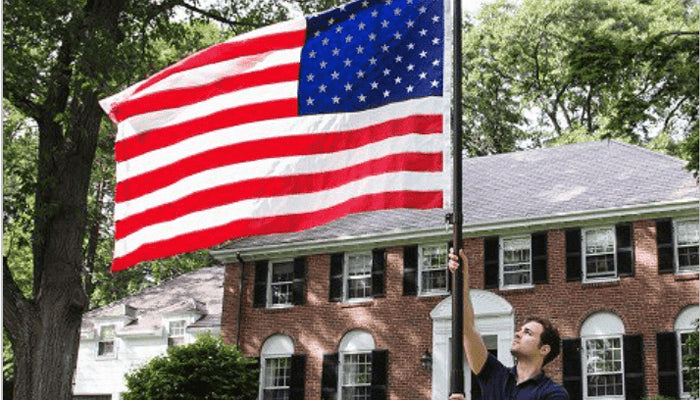 If you're looking for a solid residential flagpole option, the Titan telescoping flagpole may be just what you need. This sturdy yet portable flagpole extends up to 20 feet, allowing you to display flags, banners and signs for all to see.
Keep in mind that the Titan Telescoping Flagpole is NOT the same thing as the Uncommon Telescoping flagpole. They are totally different companies with different approaches to flagpole manufacturing. 
Overview of the Titan Telescoping Flagpole
The Titan is a heavy-duty telescoping aluminum flagpole that comes in two different sizes - 15 feet and 20 feet when fully extended. It consists of a lower and upper pole that telescope up and lock into place with a twist-lock system. The flagpole comes with a gold anodized ball finial, truck assembly and halyard rope to attach your flag or banner.
Some key features and specs of the Titan telescoping flagpole include:
Constructed of strong, lightweight aluminum
Available in 15-foot and 20-foot heights 
Two-piece telescoping design for portability
Twist-lock system for quick and easy setup
Includes gold ball finial, truck and halyard rope
Can display flags up to 6 ft x 10 ft (15 ft pole) or 8 ft x 12 ft (20 ft pole)
Ground sleeve or portable base options available
The Titan is designed to be easy to transport and set up anywhere needed. It smoothly telescopes up and locks tightly into place with a simple twist. Just insert into the ground sleeve or portable base, hoist your flag up the rope, and you've got an instant flagpole ready for displaying flags and banners. Take it down just as easily after use by retracting the pole and storing it away.
Pros of the Titan Telescoping Flagpole
- Portable and easy to transport - The telescoping design allows the pole to collapse down to a compact size for storage and transport. Fits easily in a car or truck bed to take anywhere.

- Quick and simple setup - Just insert in base, twist to lock sections, and raise the flag. No cumbersome assembly required. Set it up securely in minutes.

- Durable aluminum construction built to last - Crafted from weather-resistant aluminum that resists rust and stands up to outdoor use. Provides stability and strength.

- Available in 2 heights to match your flag size needs - Choose 15 feet for smaller flags or extend full 20 feet for larger banners and flags. Display what you need.

- Includes necessary accessories - Comes with finial, pulley, and rope ready for attaching your flag right out of the box. No extra purchases required.

- Provides good value for performance and quality - Well-made telescoping pole at a reasonable price point. Good bang for your buck.

- Allows displaying flags and banners just about anywhere - Portability allows you to display your flags wherever needed, whether home, business, events etc.

- No need to permanently install in-ground flagpole - Avoid concrete footings and complex installation. Just temporarily set in base and display your flag.
Cons of the Titan Telescoping Flagpole
- Not as tall as permanent in-ground flagpoles - For maximum height and visibility, a fixed flagpole would be better.

- Requires purchase of ground sleeve or base separately - Pole only, base/sleeve sold separately. Factor this extra cost in.

- Larger flags may sag slightly on windy days - Big banners can catch wind. Monitor conditions to prevent tattered flags.

- Not quite as sturdy or stable as fixed flagpoles - A tradeoff for portable design. Ensure base is positioned properly.

- Aluminum can dent if dropped or handled roughly - It's durable but still metal. Careful handling helps prevent cosmetic damage.

- Twisting motion required for setup could be difficult for some - May require moderate physical effort and range of motion.

- Flag may wrap around pole if not angled into the wind - Rotate pole as needed to prevent wrapping.

While it doesn't compete with the height and stability of permanent, single-shaft flagpoles, the Titan telescoping model provides ample flag displaying capabilities with the versatility of portability.
For most residential and many commercial settings, it offers sufficient height to fly flags prominently. Just be sure to gauge wind conditions and angle the flag properly, and this flagpole can make an easy-to-use versatile addition for highlighting your flags.

So if you want to display your patriotic spirit, advertise your business, or share any other flags and banners without installing a permanent in-ground flagpole, the Titan telescoping model is definitely worth considering.
It can be set up securely in minutes just about anywhere needed, then taken down with little hassle or storage. Review the features and tradeoffs to determine if this portable flagpole suits your specific needs. With the right setup and flag use, the Titan telescoping flagpole can make it easy and convenient to fly your colors proudly.